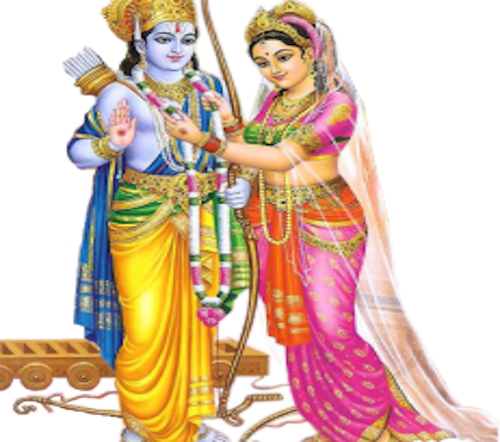 Please note this year Sri Rama Navami celebrations are on the 23rd & 24th May 2020 @ Birmingham
We believe in providing the same atmosphere of Sri Rama Navami Celebrations as they happen in Telugu States in India in the month of April after the Telugu New Year. Veda Pandits come from India to perform Pooja and give live commentary in telugu, while the divine wedding is being performed. The pooja mandapam is decorated colourfully. The atmosphere is full of devotion and joy. Old telugu devotional songs are played giving us the feeling that we are in Telugu states. Sri Sita Rama Kalyanam is followed by Sri Rama Pattabhishekam, Prasadam, Panakam and Vadapappu. There is a traditional sit down Vindu Bhojanam with several varieties of delicious delights cooked by a specialist cook from India. This is followed by cultural activities like Indian classical singing, dances, devotional discourse by scholars and sometimes Hari-Katha. This has_always_been been a great annual event, one you should not miss. If you are interested in attending this divine event please register now.
Silver Jubilee Celebrations
Sri Ramanavami silver jubilee celebrations in Birmingham are planned for two days on the 23rd & 24th of May 2020. Each family attended  will be given a Rama Mada (Coin) as a souvenir of our silver jubilee. Please Subscribe to receive event updates.
This year, we are celebrating Sri Ramanavami on 23rd & 24th May 2020 in Birmingham. All are welcome.
In the year 2021, Sri Ramanavami falls on Wednesday, 21st of April. In Birmingham, we plan to hold Sri Ramanavami celebrations on following weekend. We will update with exact date soon so stay tuned. Please Subscribe to receive updates.
Website visitors
Total Website Visits: 2909